Sanguisorbas
by Alison Farnsworth, Bridge Farm Nursery
Sanguisorbas are hardy herbaceous perennials belonging to the Rose (Rosaceae) family. The common name is Burnet. They are found throughout Europe, Asia, Japan and North America.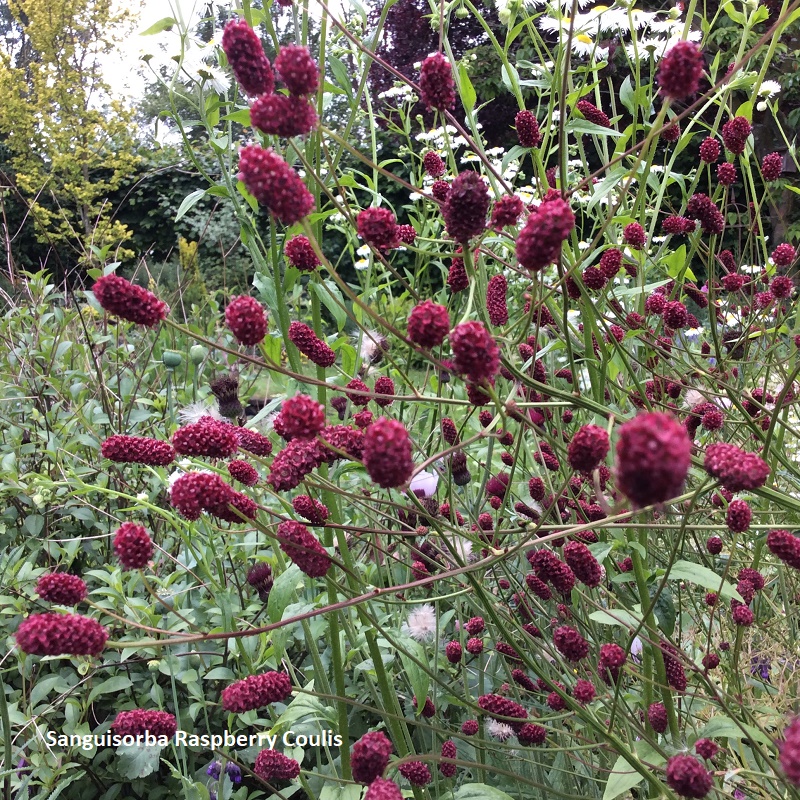 Their Latin name, Sanguisorba, comes from 'sanguis' meaning blood and 'sorbere' meaning to soak up. The name relates to its ancient medicinal use which was to staunch wounds.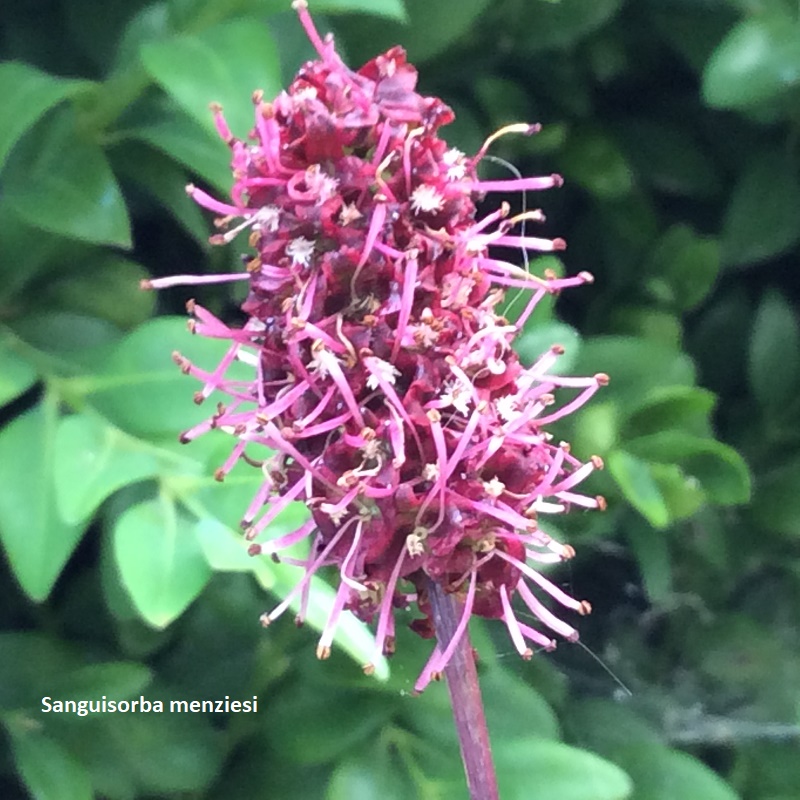 Two species are naturalised in Britain: Sanguisorba minor and Sanguisorba officinalis.
Sanguisorba minor – Salad Burnet - is an edible perennial herb that has been naturalised in Britain since the 16th Century. It is most notably found in the Midlands and the North. It is a diminuitive plant with a neat rosette of leaves which have a delicate cucumber flavour and can be added to salads, hence the common name. It was used to flavour wine in the past; the English herbalist, Gerard, author of 'The Herball or general historie of plantes' in 1597 said of it "the leaves steeped in wine and drunken comforte the heart and make it merry and are good against the tremblings and shakings thereof".
Sanguisorba officinalis – Greater Burnet – is an upright perennial with greyish-green leaves and masses of small, burgundy bobbles from summer to mid-autumn. It prefers a moisture retentive soil in meadows or on the edge of woodlands.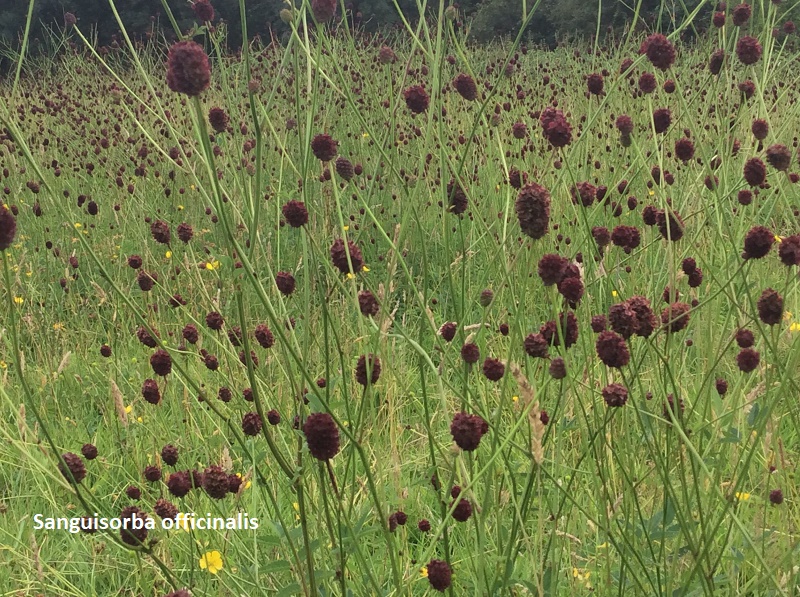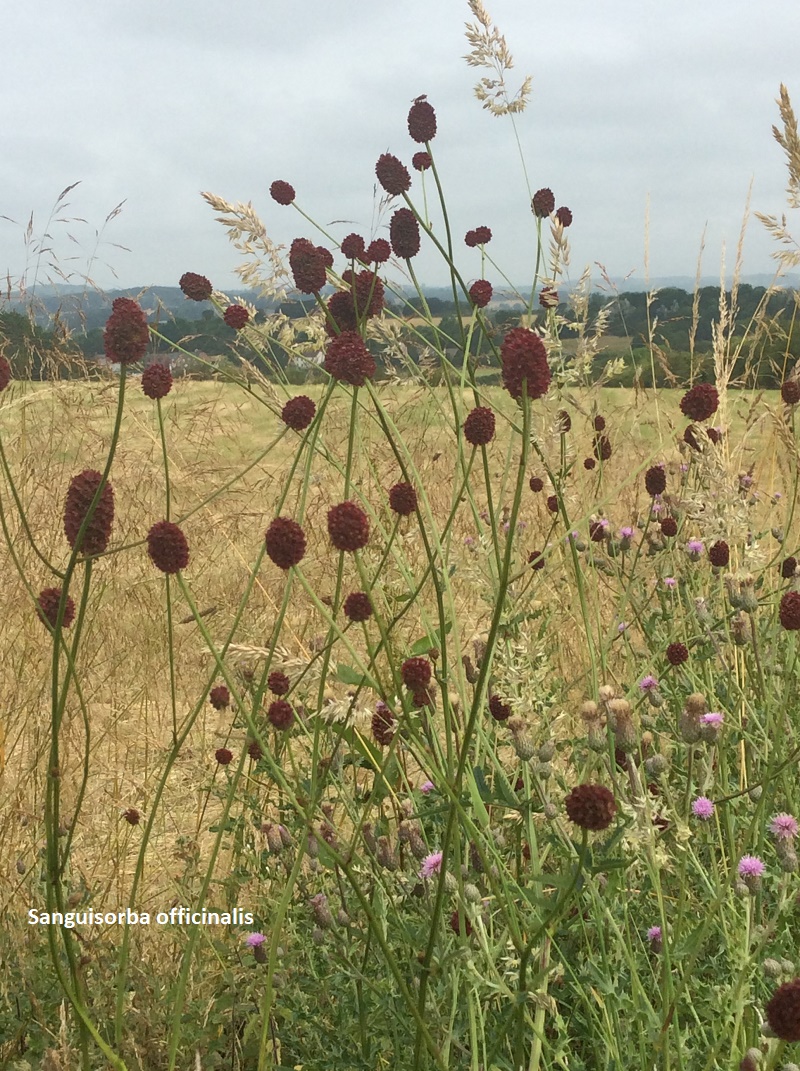 Being promiscuous, sanguisorbas hybridise easily so there plenty of varieties to choose from for the garden, whatever your taste and garden style. The following are a small selection:
Sanguisorba officinalis hybrids:
'Tanna' – a superb selection that is compact but produces masses of with dark burgundy bobbles on strong, wiry stems to 30 – 40cm. Useful at the front of the border.
'Little Angel' – a lovely and unusual dwarf variegated form with a low mat of greyish-green, cream-edged leaves and small burgundy bobbles. 30cm. Useful at the front of a border or in a container.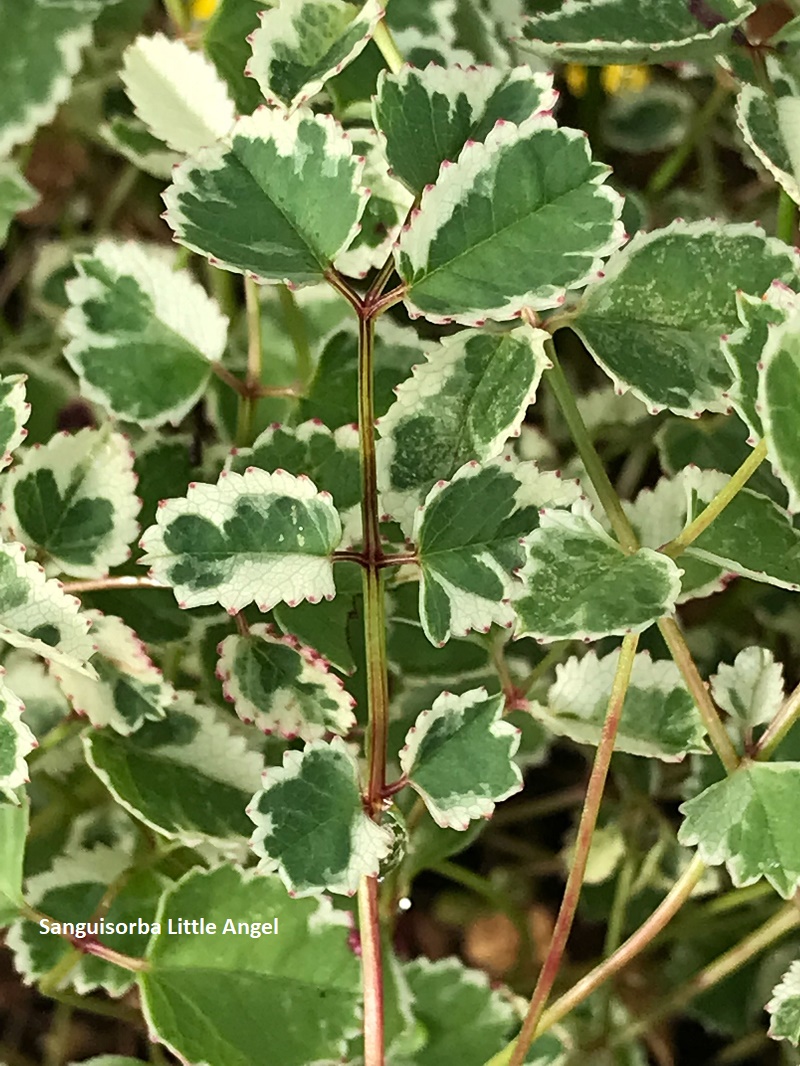 'Pink Tanna' – each flower is a tight pink bottlebrush, given a fluffy appearance by the black-tipped, white stamens. The flowers waft in the wind making a see-through pink haze. 60 – 80cm.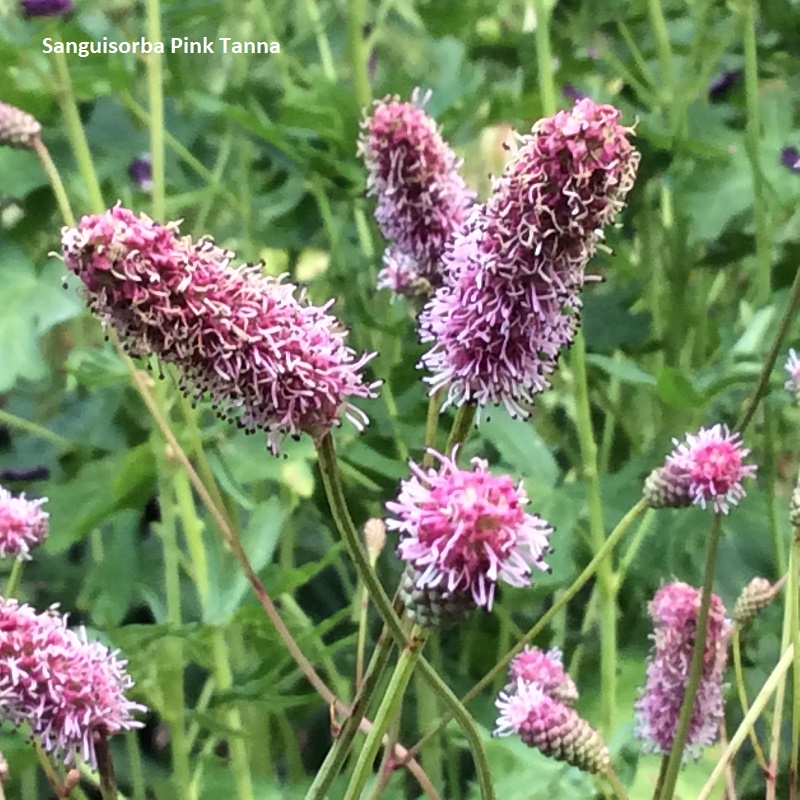 'Blackthorn' – a lovely late-flowering selection with strong-stemmed, smokey, pinky-maroon wand-like flowers. 120 – 150cm.
'Cangshan Cranberry' – introduced from China by plantsman Dan Hinkley, this is another late-flowering variety which has mulberry-red, oval-shaped bobbles held on elegant wiry stems from September to November. Despite its size, it is self-supporting, even in our windy garden. Up to 200cm.
Sanguisorba hakusanensis – Korean Mountain Burnet: Native to Korea and Japan, its Japanese name meaning 'coming from Haku', a mountain in Japan. It forms a rosette of blue-green, deeply cut, wavy-edged leaves above which long-lasting, fuzzy, wiggly, pink caterpillar flowers hang. It makes a statement in the garden!
Sanguisorba 'Lilac Squirrel' – this form of Korean Burnet has larger fluffy, hanging squirrel tail flowers in lilac-pink on out-stretched stems.
Sanguisorba tenuifolia – Japanese Burnet: Originating from the northern areas of Asia, this is generally a tall species with narrower, ferny foliage above which rise willowy stems of flower spikes resembling drooping catkin flowers.
Sanguisorba tenuifolia var. alba – obviously has white flower spikes and although they can reach up to 180cm in height, is self-supporting even in our windy garden.
Sanguisorba 'Strawberry Frost' – tall, upright stems bear clean white catkin flowers dusted with strawberry-pink. 120 – 180cm.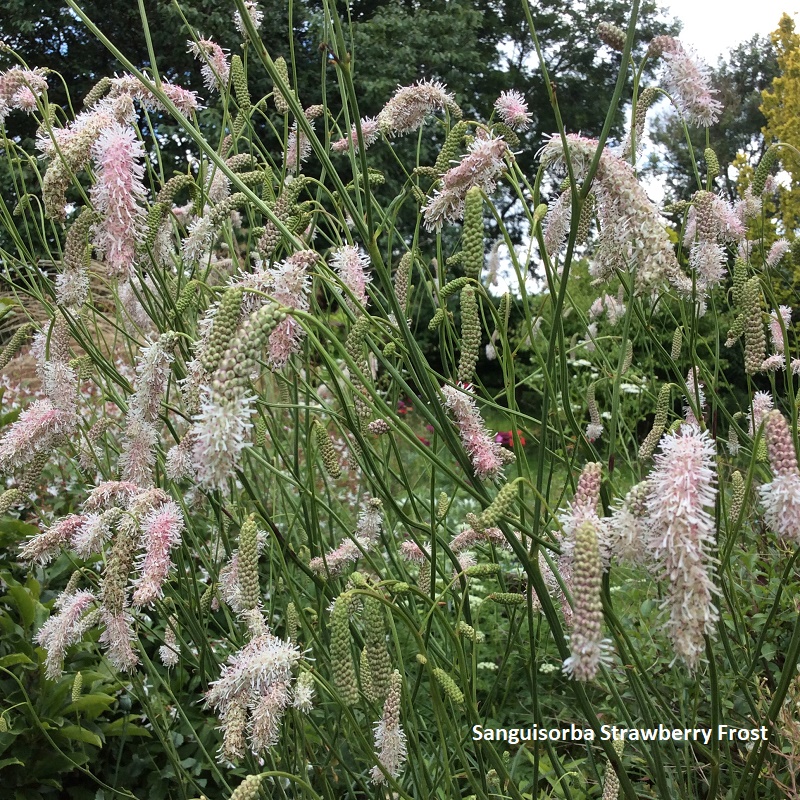 Sanguisorba Canadensis – Canadian Burnet: A North American species (obviously!). Branched stems carry dense, erect, cylindrical clusters of greenish-cream flower spikes in late summer / autumn. The conspicuous stamens give the flower a fuzzy appearance.
Bridge Farm Plants attend most Plant Hunters Fairs.
Contact Alison & Jason at Bridge Farm Plants
Website: www.facebook.com/Bridge-Farm-Plants-in-Derbyshire-102939071356137
email: ALISONFARNSWORTH@BTINTERNET.COM
Phone: 01773 742848 / 07812 350132
All text and images © Alison Farnsworth 2022