Perennial Cornflowers and Knapweeds
by Martin Blow, SpecialPerennials
We all love to see cornflowers growing wild, although it is a very rare sight these days. These wildflowers are the annual Centaurea cyanus that can be grown from seed each year. There are however, lots of perennial types that have the same shuttlecock flowers but come up year after year in the garden. Cornflowers and Knapweeds all belong under the name of Centaurea which harks back to the ancient Greek legends regarding their healing properties.
It isn't just the flowers that provide garden interest. Many varieties have grey leaves often divided into lacy filigree. The flower buds are clothed in woody, shiny or spiny scales and can be almost jewel-like.
One of my favourite natives is Centaurea nigra, known as Hardheads or Black Knapweed. It grows in all kinds of grassland and is a favourite of bees and butterflies all through the summer. The wild form Rivularis with larger, frillier flowers and the pure white variety, Waterfall White, are equally tough.
Another native, Greater Knapweed (Centaurea scabiosa), grows well in our garden seeding around gently. C.Alpina is similar but always shorter in height.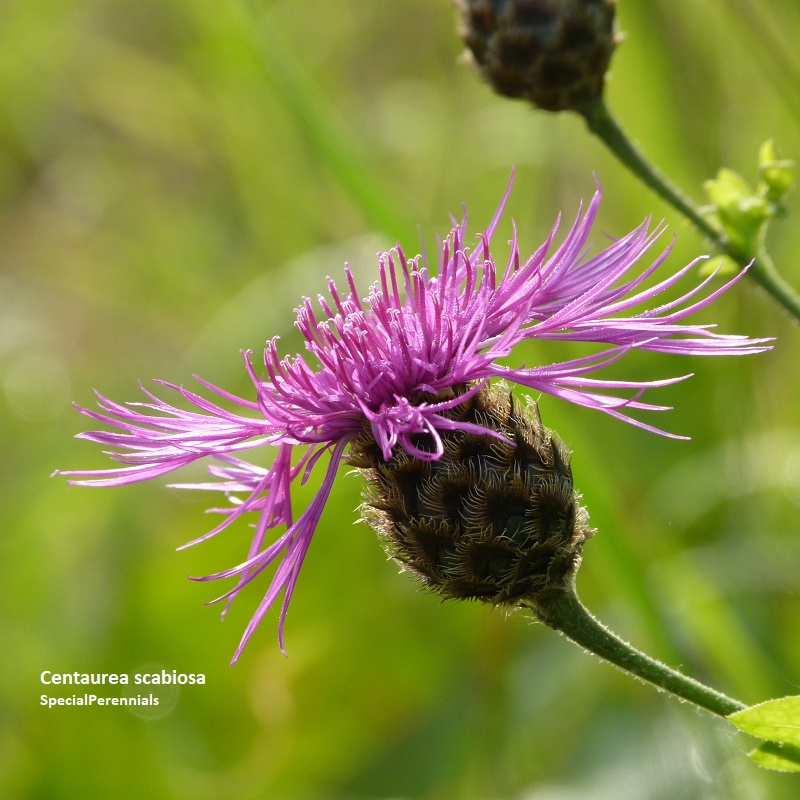 There are many varieties suitable for the garden that enjoy the rough and tumble of the crowded border or naturalistic planting. The Giant Yellow Knapweed, Centaurea macrocephala has perhaps one of the most iconic flowers of the genus. The large globular yellow flowers resemble a giant thistle or cardoon flower. The buds are deep bronze and attractive in their own right. It would be a shame to dead head too promptly as the dead petals form a wig of brown hair atop the head-like seed pods (macrocephala = "big head"). For a more refined look to the border choose the dainty Eastern Knapweed (Centaurea orientalis).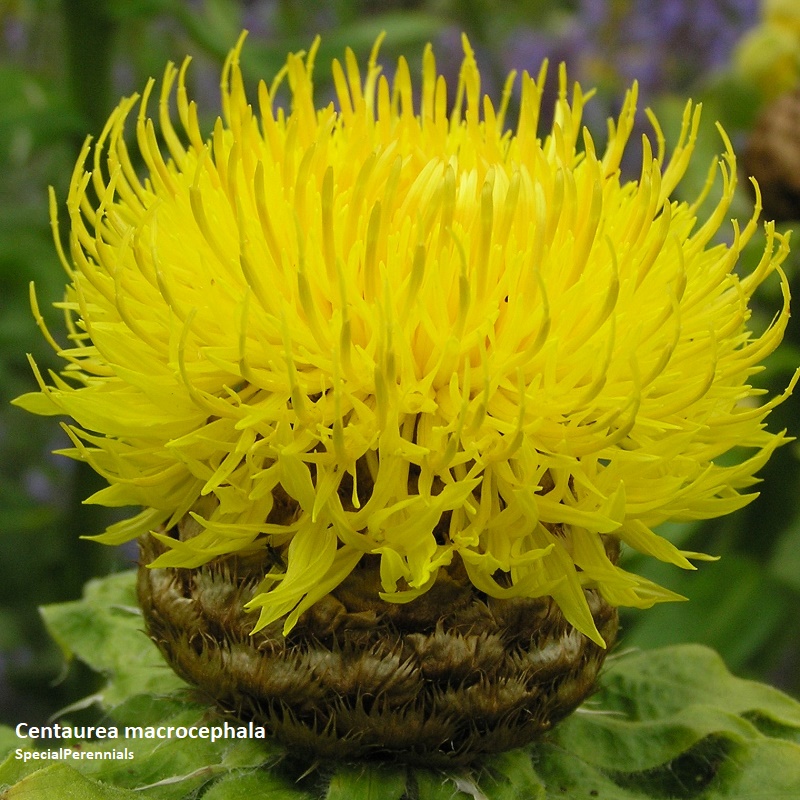 For an upright, purple-pink flowered cornflower you can't do much better than the new variety "Caramia". This will rebloom if cut back hard after flowering and grows to about 2ft / 60cm tall. This is hybrid that includes in its heritage Centaurea phrygia, known to us as the "hairnet" plant because of its netted flower buds.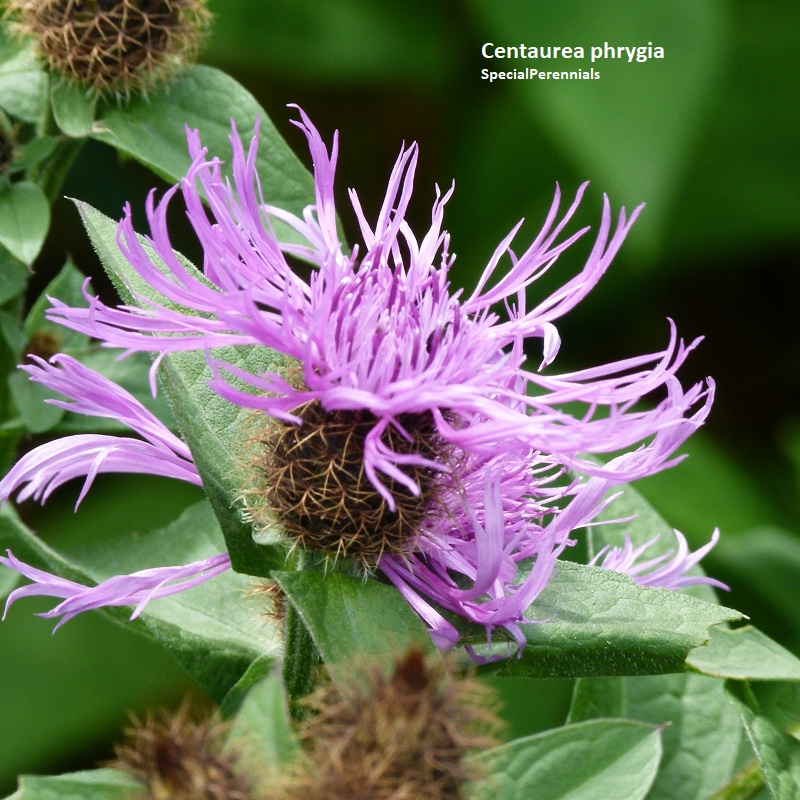 Most gardeners will know Centaurea montana, the Mountain Bluet, for its blue flowers, grey-green leaves and low growing, running habit. There are lots of new colours available now: white-flowered: Alba or Lady Flora Hastings; Pink: Joyce and Carnea; Purple: Violetta; Blewit is pale blue; and Purple Heart is white with an attractive purple centre. The new hybrid, Jordy is a "must have" plant with large burgundy flowers. It is more upright and reblooms through to the autumn if cut back hard after each crop of flowers finish.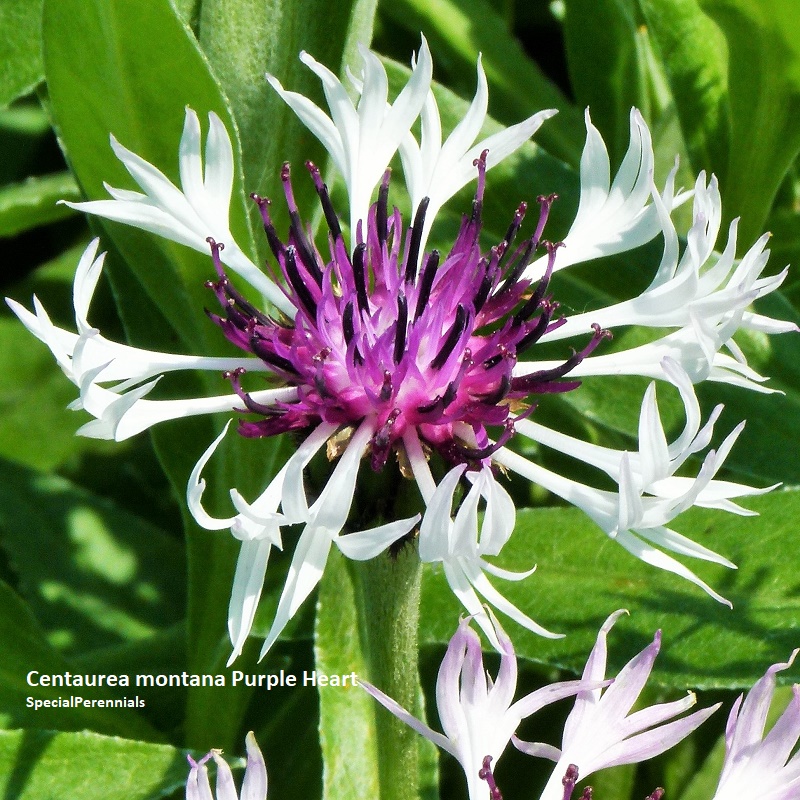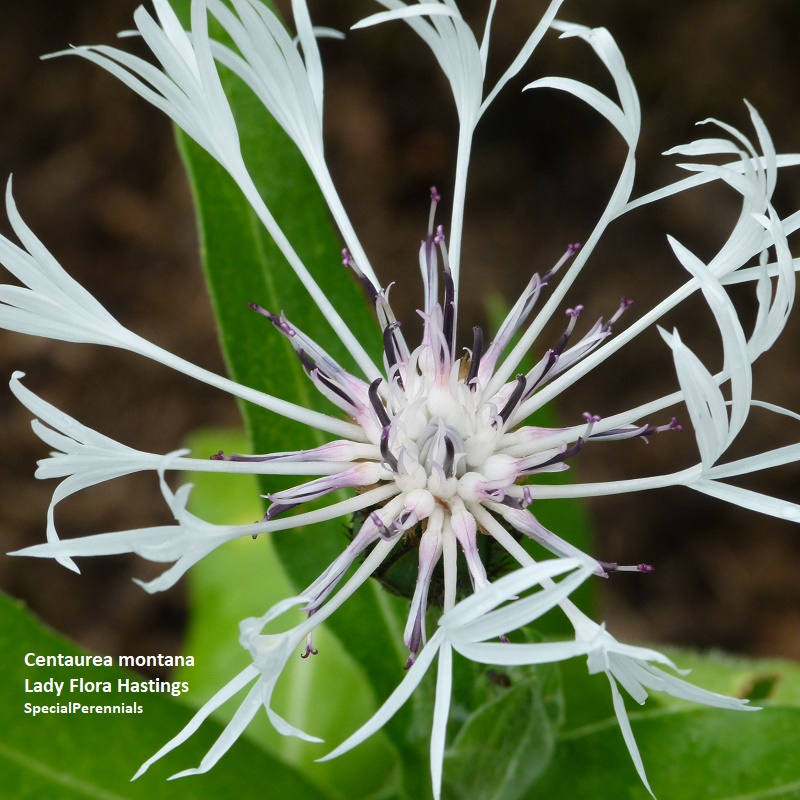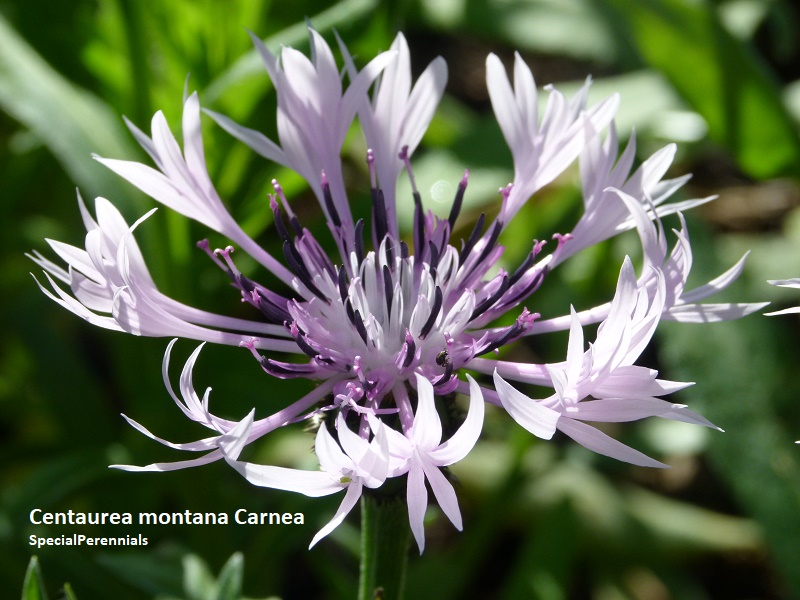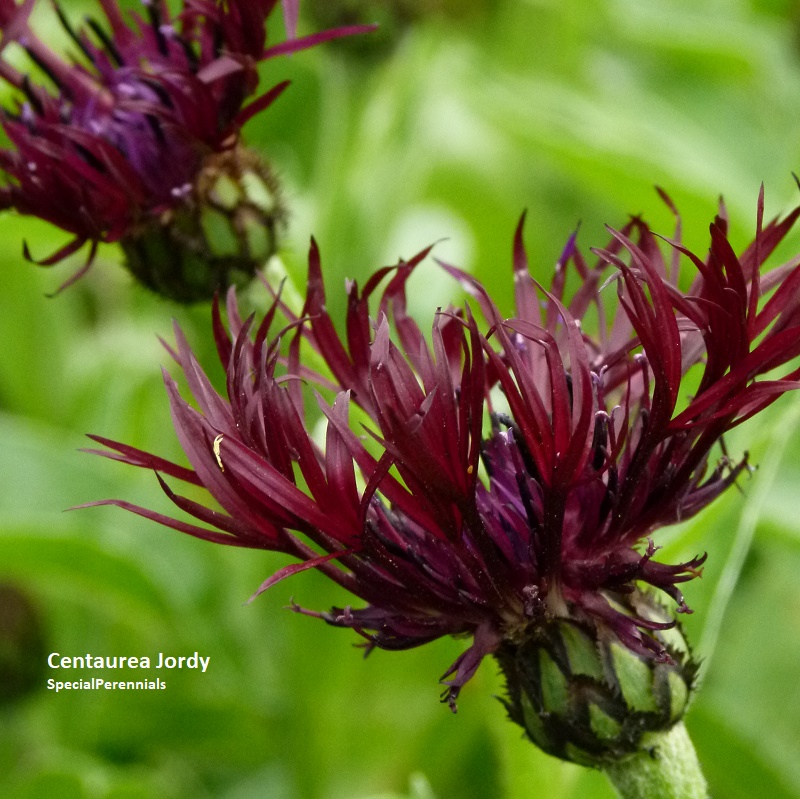 Some Knapweeds have lovely, grey-backed, feather leaves and spread to make large clumps full of flower. Centraurea woronowii and C.karabaghensis are very similar with pink flowers. C.dealbata has white centred pink flowers and its variety Steinbergii is shocking pink.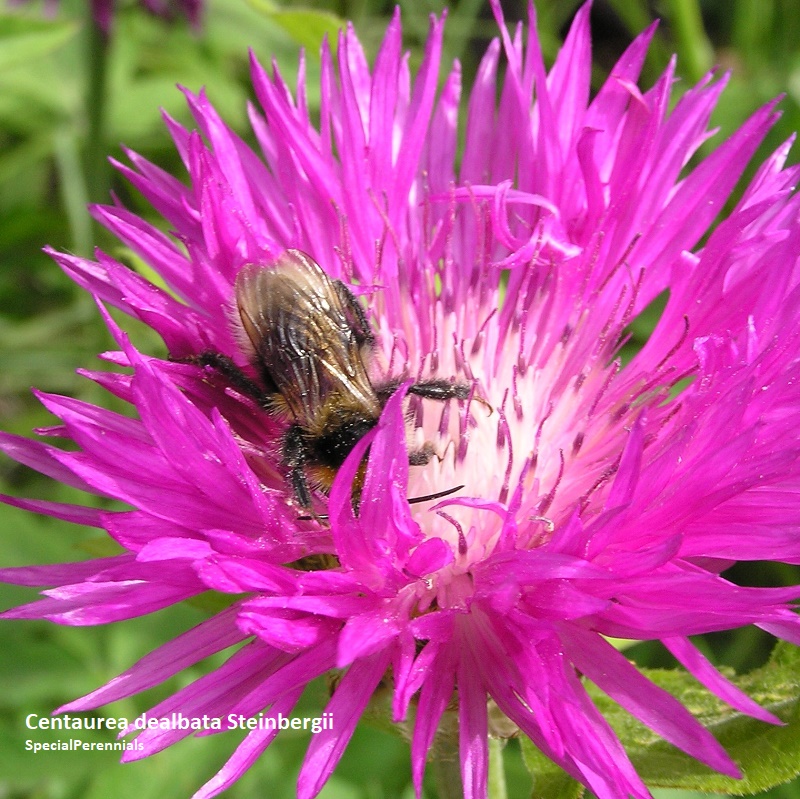 Centaurea are one of the best bee plants in the garden, particularly for bumblebees. In our garden, we have spotted many species of bumblebee regularly visiting Centaurea in large numbers. Butterflies are also attracted to the flowers to fuel up with nectar. Whilst deadheading flowers is useful for us gardeners, it's well worth leaving seed heads on to allow charms of goldfinches (and occasionally Redpolls) to come take their fill of the seeds, even in mid-summer and particularly through the winter.
Centaurea will grow in most soil types including sticky clay in the case of the montanas, and if your soil is very acid you may find a dressing of powdered limestone each spring is useful. Spreading types can be divided before or between flowering.
We normally have a selection of Centaurea at different times of the season but not all will be available every year.
SpecialPerennials attend all Plant Hunters Fairs.
All text and images © SpecialPerennials 2022
.