Plant Hunters' Fairs: plant fairs that are different and special
Come rain or shine our fairs are the place to find great value, top quality, traditionally grown plants for every type of garden.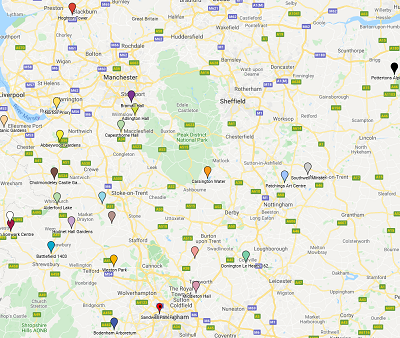 Great locations:
Our fairs are hosted by the most beautiful and most prestigious gardens in our region and we have arranged reduced rates at most. These fairs make a wonderful day out full of inspiring ideas for you to take back with you to your own garden.
Come rain or shine! - All of our fairs are all outdoors so pack a brolly and wear suitable footwear. Some nurseries cannot accept cards and sometimes the phone signal is not good enough in the countryside, so please bring cash or your cheque book as well.
Great for groups:
If you organise days out for your group click here for special arrangements we can offer to make your day complete.
Great value:
Entry prices are low (or even free) so you can pop in for an hour and pick up some plants without breaking the bank.
Where an entrance fee is charged all of the entrance money you pay goes to the garden hosting the event, often Charitable Trusts, raising much needed funds to help maintain these lovely gardens into the future. We think it's important to support these lovely gardens and make sure that our events become important fund-raisers for them.
The plants are all traditionally grown and are keenly priced.
Great plants:
All our nurseries are proper growers and able to give accurate information based on their real experience: you won't find fly-by-nights and supermarket plants. You will find RHS medallists and National Collection Holders, keen plantspeople, designers and artisans. Above all, people who love plants and are passionate about what they grow.
Click here to inspect our complete range of nurseries
You can read articles by our nurseryfolk in our newsletters.
Great choice:
Every line up of nurseries is selected and planned to ensure each stall is different with it's own unique specialty. We go for quality and diversity rather than packing in lots of look-alike stalls. Finding top-quality nurseries is not easy, we invest a lot of time and effort in selecting the best from the rest.
Click here for a printable plant fair calendar
Could you display an event poster? If there's a notice board etc. at your workplace, shops, clubs, etc. where you could display a poster for your local event then please click or tap here to select and print a poster. Thanks for your help in getting the word out about Plant Hunters Fairs
Subscribe to Newsletters and Updates
You can follow our latest updates on social media: Facebook and Twitter
What's New for 2020:
We are thrilled to announce news of a brand-new Plant Hunters Fair to visit for our 2020 season. As always, we have arranged a special low entry fee for the plant fair date which will be half the normal price. We are really pleased to be visiting Capesthorne Hall and Gardens for our very first Plant Hunters Fair here on Sunday 16th August 2020. Capesthorne Hall is a grand country home and gardens, located in the village of Siddington in Macclesfield, Cheshire. It is a distinctive Jacobean style house with its Georgian Chapel and delightful gardens and lakes all set in over 100 acres of parkland. The plant fair will take place on the courtyard in front of the Hall. Lots of lovely nurseries are already looking forward to attending this event. Why not consider this for a group visit with your gardening club if you are a member of one.
We also have extra dates at:
Donington le Heath 1620s House on Sunday 22 March
Bramall Hall on Sunday 28 June
We welcome new nurseries to our fairs for 2020 as well:
Edible Garden Nursery from Devon
Every Picture Tells A Story from Merseyside
Heartsease Plants from West Wales
Just Peonies from Herefordshire
Lovegroves from Gloucestershire
Morton Nurseries from Nottinghamshire
Peter the Bee and Friends from West Midlands
Best wishes, Janet & Martin