Plant Hunters' Fairs: plant fairs that are different and special
Our 2018 dates are out! Subscribe to newsletters and updates to be the first to know about everything that's happening at Plant Hunters' Fairs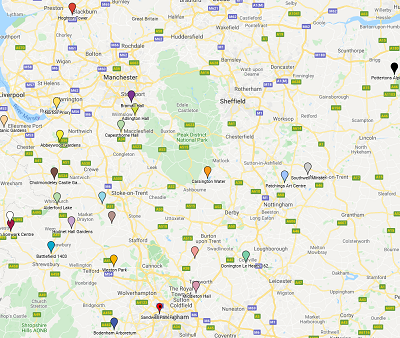 Great locations:
Our fairs are hosted by the most beautiful and most prestigious gardens in our region and we have arranged reduced rates at most. These fairs make a wonderful day out full of inspiring ideas for you to take back with you to your own garden.
Great for groups:
Download and print our 2018 event details booklet - summaries of every event, ideal to discuss with your group: 2018 coachclub a4.pdf
If you organise days out for your group click here for special arrangements we can offer to make your day complete.
Great value:
Entry prices are low (or even free) so you can pop in for an hour and pick up some plants without breaking the bank.
Where an entrance fee is charged all of the entrance money you pay goes to the garden hosting the event, often Charitable Trusts, raising much needed funds to help maintain these lovely gardens into the future. We think it's important to support these lovely gardens and make sure that our events become important fund-raisers for them.
Great plants:
All our nurseries are proper growers and able to give accurate information based on their real experience: you won't find fly-by-nights and supermarket plants. You will find RHS medallists and National Collection Holders, keen plantspeople, designers and artisans. Above all, people who love plants and are passionate about what they grow.
Click here to inspect our complete range of nurseries
You can read articles by our nurseryfolk in our newsletters.
Great choice:
Every line up of nurseries is selected and planned to ensure each stall is different with it's own unique specialty. We go for quality and diversity rather than packing in lots of look-alike stalls. Finding top-quality nurseries is not easy, we invest a lot of time and effort in selecting the best from the rest.
Latest news:
We welcome East of Eden Nursery, the Geum specialists to Hoghton Tower on Saturday 7th April
We welcome The Friary Workshop, with handmade primitive crafts to Alderford Lake on Sunday 18th March
We welcome Coopers Nurseries, with lovely perennials, planted tubs and baskets to Bosworth Battlefield, Sugnall Walled Garden (June) and Carsington Water (August)
We welcome Vertical Shores, with hand-crafted, unique stained glass garden art to our fairs in 2018, Ness (March) Bramall Hall (April) and Henbury Hall (September)
We welcome Pops Plants 2 , specialists in auriculas from Hertfordshire to our spring fairs at Sandwell Vallley Park and 1620's House Donington Le Heath in 2018
We welcome Green End Farm Nursery from Yorkshire to our fairs at Carsington Water in 2018
Welcome to Standwell Tools from Derbyshire new to our fairs for 2018
Our fair at British Ironwork Centre on 14 May raised a staggering £2346 from the £1.00 entry donation for Hope House Childrens Hospices - thanks to everyone who came along and supprted this worthy cause.
For our latest blog posts why not visit our Facebook page